This article first appeared in Property24 on 01/11/2020 – When buying your first home, it can feel a bit daunting to consider how to afford the monthly home loan repayments. View the original article.
When buying your first home, it can feel a bit daunting to consider how to afford the monthly home loan repayments. It is possible to lessen this expense by paying a deposit. In addition to increasing the chances of securing a home loan, there are many other reasons why a deposit will benefit buyers in both the short and long term.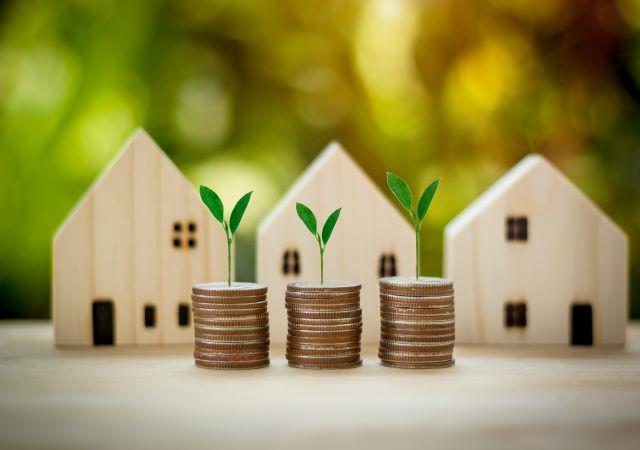 READ: 6 Reasons why a deposit is important when buying property
"To try and make it easier for first-time buyers to enter the market, financial institutions have become more willing to grant a 100% home loan, which means that firs-time buyers might not be required to pay a deposit to qualify for a home loan," explains Adrian Goslett, Regional Director and CEO of RE/MAX of Southern Africa.
That being said, Goslett explains that some sellers require that the buyer pays a deposit and will stipulate this in the offer to purchase. "This just provides the seller with more security that the buyer is serious and can afford to go through with the purchase. Buyers need to read the OTP carefully to make sure they are not caught off guard by this, as the sale will not go through until the required amount is paid," he cautions.
For those who do not have to pay a deposit, Goslett warns that there will be bond and transfer costs above and beyond the asking price that will be payable upfront, regardless of whether you have paid a deposit or not. "This usually amounts to roughly 10% or more of the asking price. If you do not have this amount saved, you will either need to apply for a 110% home loan or take out a personal loan to cover these costs."
READ: Here's one of the best ways to negotiate a better interest rate on your bond
"Apart from this, buyers should consider that providing a deposit will show both the seller and lender that you are serious about buying the property and can afford the purchase. This not only improves your chances of having your home loan application approved, but it can also lead to a possible lower interest rate on your home loan," says Goslett.
In most cases, Goslett explains that a good deposit amount is usually around 10-20% of the seller's asking price. However, he adds that you can pay more if you are able to and could possibly negotiate to pay less if you are unable to afford this amount. "Remember that the higher your deposit, the lower the amount you will need to borrow from the bank and the lower your monthly instalments will be."
Goslett explains that once you have agreed to an amount, the deposit is not paid directly to the seller but rather to the transferring attorney, who will then place it into a trust account where it will be kept safe until the property transfer and registration is complete. The interest that is generated by the deposit will be paid to you after registration of the property.
READ: 10 ways to save your home deposit in just two years
In the event that the sale does not go through, Goslett explains that there are various possible outcomes for what will happen to your deposit. "If your OTP was contingent on your home loan approval, and for whatever reason your bond was not approved, your deposit will be refunded to you. However, if you withdraw your application, then you could be in breach of the contract and you might forfeit your deposit," he cautions.
Buyers are reminded that the offer to purchase is a binding contract. If you, as the buyer, are in breach of the contract and it can't be rectified within a specific time frame, you will lose your deposit and the seller has the right to use it to cover any legal costs that have been incurred from the deal falling through.
"Buying your first home can be a daunting experience, but it doesn't have to be. With a reliable and knowledgeable real estate professional at your side, navigating the complexity of purchasing your first home can seem like a breeze. If you have any questions or concerns about the home owning process, just reach out to your nearest RE/MAX Office for assistance," says Goslett.
READ: First-time homebuyers' fears – how to overcome them
An article published on June, 18, 2023, features Paul Stevens, CEO of Just Property, who shares that deferring the dream of owning property, for a year or two in order to save towards a larger deposit will decrease the amount you have to borrow, and the amount you pay in the long term.
What is a deposit? A deposit is usually 10% of your purchase price. It is paid to the transferring attorney or estate agent, who manages it on your behalf until the property registration process is complete.
A deposit will:
Enhance your affordability and increase the likelihood of bond approval
Give you leverage when negotiating a more favourable interest rate (due to reduced risk for the bank)
Minimise the interest you'll pay over the duration of the loan
Reduce your monthly bond repayments
Enhance your attractiveness to sellers
Improve your negotiating power
READ: Small living, Big savings | Why downscaling your home might relieve some financial pressure
Prospective first-time homebuyers aiming to acquire a property valued at R1 million may be eligible for a 100% bond. If this is not the case, a 10% or R100 000 deposit is typically required.
Imagine you were to take the R1 million bond today, with interest rates at 11.75%. Without the deposit, your monthly instalment will be R10 837 but if you were to increase your deposit to 20% or R100 000, your monthly repayment will be R8 670. It can be done, and just imagine, over 20 years, how much you'll be saving.
How to save R100 000 in two years
Individuals who have yet to enter the property market often feel overwhelmed by the deposit amount necessary for a home loan. "But you'll be astonished at how quickly the savings from temporary adjustments to lifestyle and spending habits can mount up," says Stevens. "And what is two years of tightening your belt if it helps you enter the property market and significantly decreases your long-term bond repayments?"
To add R100 000 to your deposit, you'll be aiming to save R50 000 per year over the next two years. That would require a monthly saving of approximately R4 200.
Stevens offers these ten changes to help you start saving for a larger deposit:
Investigate where you can cut expenses – items like cosmetics, cleaning supplies and grocery basics are good options. Compare prices on the shelves and always opt for the cheapest alternative. Research potential savings at different wholesalers and try to find out what each supermarket store has identified as its "loss leader". Depending on where you live you might, for instance, choose to buy your meat and dairy from Checkers, name-brand cleaning products from Makro and fruit from Woolworths.
When out shopping, only purchase necessities and focus on special offers – better still, use online shopping so you're not tempted in the aisles. But also identify a few luxuries you can indulge in now and then – like the best coffee beans or a fabulous after-dinner chocolate.
Savings – Put that R4 200 away at the beginning of each month rather than attempting to save what remains after expenses. Bank your savings in a 72-day call account that offers a higher interest rate as well as accessibility while discouraging impulsive withdrawals.
Homemade meals – aim for homemade dishes instead of ready-to-cook or takeaway meals. This can lead to significant savings. Cook in bulk one day a week, eat one portion that night and refrigerate the remainder, so that you also cut down on electricity usage.
Evaluate the need for two vehicles if you're part of a couple – consider selling one vehicle and opting for a scooter or downsizing to a single vehicle, especially if one or both of you work from home. Although this may seem a significant sacrifice, the reward of owning a home in just two years' time will make it worthwhile.
Insurance – is your insurance policy current regarding the value of assets such as vehicles and computers? Find out if your premiums can be lowered.
Is it necessary to take that next upgrade on your phone? – sticking with your current model and downgrading to the cheapest contract can save hundreds of rands a month. Could you join a cheaper gym or cancel your membership and take up running for the next two years instead?
Side hustle – could you start a side hustle, tutor over the weekends, or wait tables one or two nights a week? Think about what else you could do (or sell) to bring in extra money. Pay it straight into the savings account.
Rent – if you rent, consider temporarily downsizing to a smaller rental unit. This will reduce rental expenses while you save for your deposit. Keep in mind that this arrangement is temporary, and the ultimate goal is to move into one's own home.
More Savings– if you receive a bonus, monetary gift, or commission, keep 5% to spoil yourself, and pay the rest into your savings account. Using a portion to take advantage of special bulk-buy deals is also a good option.
"These actions will also help you rehabilitate your credit history if that's necessary," says Stevens. "A good credit score may well help you negotiate lower interest rates when you apply for your bond."
Once you've bought your home, move your focus to paying off your bond as fast as possible. "Ease up on the pressure to save by all means, but keep some of those habits in place," Stevens advises. "The quicker you pay off your bond, the less you'll be paying in interest."
*Article updated 1 November 2023
Want all the latest property news and curated hot property listings sent directly to your inbox? Register for Property24's Hot Properties, Lifestyle and Weekly Property Trends newsletters or follow us on Twitter, Instagram or Facebook.